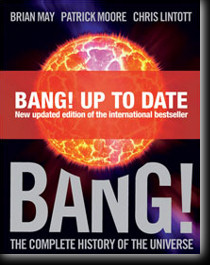 Bang - The Book!
Queen guitarist and experienced amateur astronomer Brian May joins the legendary expert Sir Patrick Moore and Chris Lintott (Patrick Moore's co-presenter on 'The Sky at Night') to tell the story of the Universe from the moment time and space came into existence at the Big Bang, through to the infinite future and the ultimate fate that awaits us. Many of the pictures of the Universe obtained by instruments such as the Hubble Space Telescope or the Very Large Telescope in Chile are beautiful enough to be considered works of art in their own right. This book presents them in context, and uses extraordinary new artworks to explain the mind-blowing theories from the cutting edge of astronomy in a way that everyone can understand.
Bang! The Complete History of the Universe' is a 192 page hard-back book and is available from the Official International Queen Fan Club now!
ORDER YOUR COPY BELOW

United Kingdom & Northern Ireland

Europe & Irish Republic

United States +
Rest of the World

£18.00
+ £1.00 postage/packing

€30.00
+ €5.00 postage/packing

$30.00
+ $12.00 postage/packing
Please note that all merchandise will be charged from the
Offical International Queen Fan Club, the official supplier of Bang! Merchandise.
Your Credit Card Statement will read "PAYPAL *QUEENFANCLU".
Payment can also be accepted by personal cheque or postal order in
sterling, dollars or Euros, please make it payable to The Queen Fan Club
and ensure you include your name and address. Post it to:
The Official International Queen Fan Club
P.O.Box 141
West Horsley
Surrey
KT24 9AJ
View sample pages from the book (PDF)